LORBEER 7 Hair Oils ( Almond Oil ) ( 804 )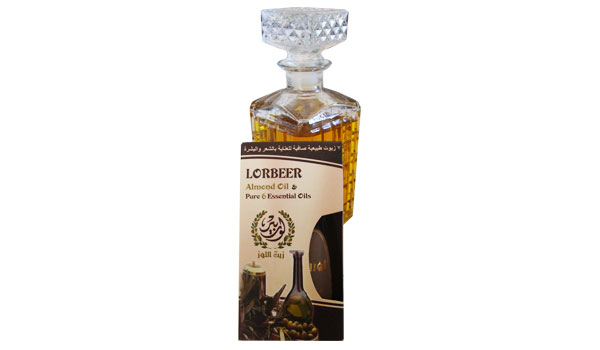 7 Hair oils for natural Hair & Skin care
25%

Almond Oil
The LORBEER Company seeks to select the best quality oils from olive oils, laurel oils and other oils.
it never uses cheated oils, non original oils such as lettuce or cucumber oils, or extracted oils which have no nutrients.

Almond oil: Strengthens hair, protects it from falling and renders it with Natural brightness and elegance. It helps in increasing the moisture of the skins outer layer , smoothens it and assists in treating freckles and black heads.
Coconut oil: Hair and skin nutrient oil, as it contains 50% of lauric acid, which is available in the breast milk.It is a moisturizing oil, hair and skin conditioner and helps in controlling dandruff.
Sesame oil: An oil useful for hair elongation, of the first grade, as it nourishes hair bulbs and provides them with suitable medium for growth. It contains lynolic acid (scientific name), which controls dermatologic diseases, such as fissuration, eczema, dermatologic follicular cornification, and acts as a sunscreen for the skin.
Castor oil: Natural strengthener and anti-dandruff. It resists dryness of the hair subject to sun rays or chemical colorants, or that resulted from bathing in salty water, and assists in controlling harshness and long hair trichoclasia, as it activates in strengthening the scalp, providing it with vitality and activity and compensates the necessary fats and nutrition for the hair.
Laurel oil: Laurel oil is the best natural sterilizer. It is excelled with lovely scent, and assists in controlling fungi, eczema, psoriasis, eliminates bacteria and germs, assists in melting extra fats out of the scalp and consequently allows passage of nutrients to the hair bulb. It is knows as the Magic oil.
Black cumin oil: Contains less than 1% of volatile oil and about 33% of stable oil. It is rich of

Amino acids, Proteins, Calcium, Magnesium,

Iron,Copper, Metallic Salts; in addition to nigella sativa, Thymoquinone and Carotene (scientific name), which are anti cancer substances. Words cannot describe this oil and its benefits. It is actively and extraordinarily useful for hair and skin nutrition and for all parts of the body.
Olive Oil:
it helps removing fats from the head scalp which leads to opening of pores and passage of nutrients to the hair follicles .
Method of hair oils application to get the optimal results.
1-Wash your hair with the suitable

LORBEER

soap until all fats are removed form your head scalp and oils have penetrated through your hair to the bulb for its nutrition.
2-Rinse then dry your hair well.
3-Apply the suitable oil on the scalp,

then

massage

the

scalp

with

finger

tips

after that cover your head and leave it for at least 45 minutes; then rinse it out.
4-Wash your hair later with

LORBEER soap or

LORBEER

liquid laurel soap which is suitable for your hair or skin type.
| | | | | | |
| --- | --- | --- | --- | --- | --- |
| Barcode | Ingredients | NW/Piece | Pieces/Box | Gross Weighting/Box | Dimensions cm |
| باركود | التركيب | وزن القطعة | عدد القطع في الصندوق | الوزن القائم للصندوق | الأبعاد |
| 6215000931320 | 25 % Almond Oil, 5 % Sesame Oil,5% Black Cumin Oil,5% Laurel Oil, 5% Coconut Oil, 5% Castor Oil, 50% Olive Oil. | 100ml | 12 | 1.80 kg | 25 x 17 x 17 |